Shane Is Blown Away By How He Managed to Stick The Most Massive Wave of His Life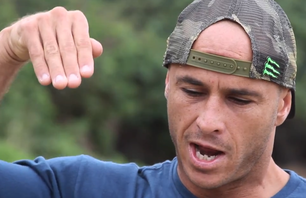 Shane Dorian talks about the best wave of his life.
Shane Dorian is so badass, we can't even describe how badass he is in words. But Monster Energy had a few things to say about Shane's best wave he's ever ridden so we'll let them take a stab at it:
Imagine if Babe Ruth told you about his greatest home run. Or Joe Montana described the best pass he'd ever thrown. Imagine, for a moment, that Hugh Hefner recalled the most beautiful woman he'd ever seen. You'd be rapt, wouldn't you? Because if those guys are claiming, "best ever," then it is something truly special. And so when Shane Dorian walks us through the greatest wave he's ever caught in his life, we should set aside 3 minutes and 47 seconds to listen. And watch. In this clip, Dorian gives us the play-by-play of a 50-foot barrel he rode at Jaws a few months ago. The situation: just trying to get a small one in. The drop:perfectly clean — until the giant boil. The claim: not even halfway through. It was a perfect wave that only he could have surfed so perfectly, and we're lucky to have a great share his greatest moment.